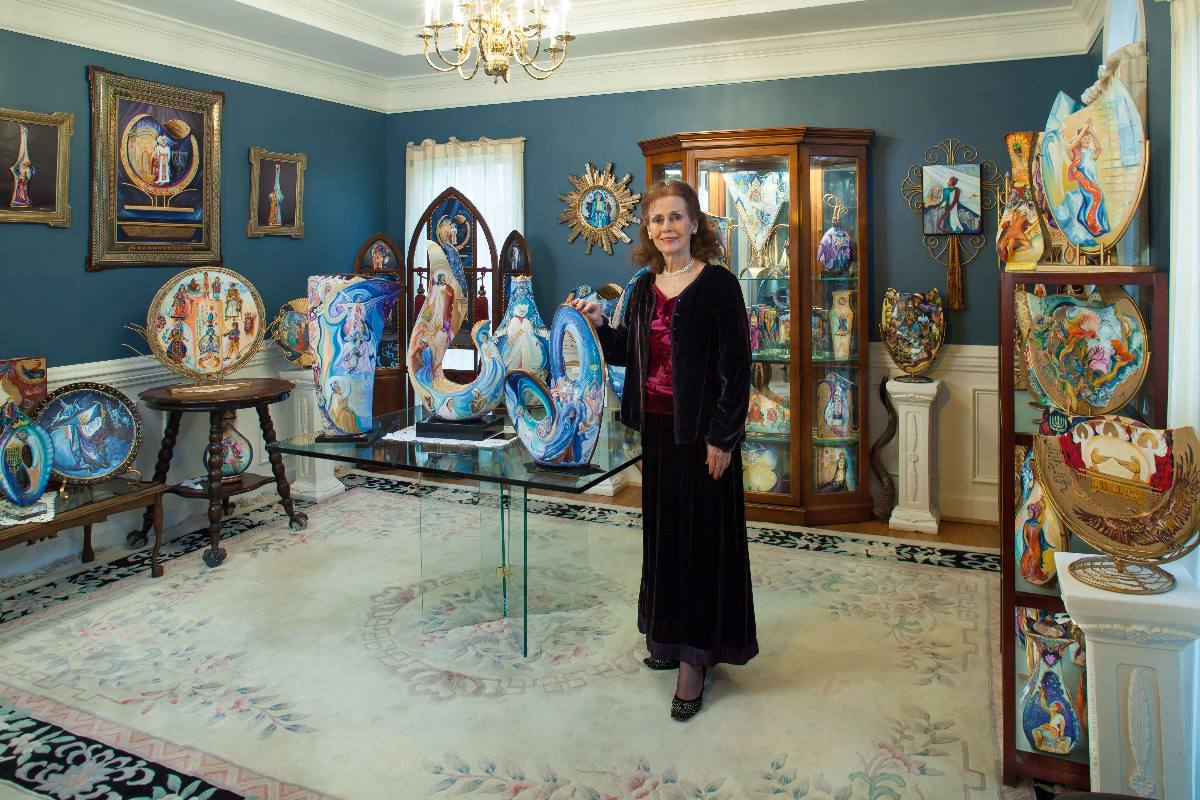 The Art of Mona Johnian
Mona Johnian's work is bold, crisp and original. Her one-of-a-kind art pieces are unique and stunning. Once you have seen one of her wonderfully crafted pieces of art you will want to see more, because each piece not only tells a biblical story but her presentations and creativity are so unexpected. I met Mona some years ago through her husband Paul Johnian, a highly talented violinist. Paul was searching and interviewing photographers to undertake the huge and long standing project of photographing each piece of Mona's artistic creations. This is where the journey begins for us both. Prior to my pursuing photography commercially, I worked in the museum for many years, visited museums worldwide, and studied art all of my life. But, I was not prepared nor had I seen anything close to the originality, clarity of message, and uniqueness in presentation that I saw in the artistic endeavors of Mona Johnian!As the photographic recorder of Mona's distinct renderings, I have watched how she goes about envisioning, contemplating, and crafting her masterpieces.
Her painstaking process begins either with a vision, a Bible verse, or dream on the blank slate of a raw vase. As she proceeds with building an underlying texture, the idea morphs slowly. After days or weeks of meticulous attention to detail, biblical accuracy and artistic merit, the final version of her imagination is a masterfully created work of art. Because Mona works in oils, she has to allow the brightly colored paint to partially dry before proceeding with more detail. One could say some of her pieces are never really totally finished as she will come back later; one month, six months, one year to rework a piece of clothing, a face, or even add a new element or Biblical person to the work.
Mona is one of those rare artists who relentlessly pursues perfection in her work. I admire her deep dedication to research. I believe her paintings of these enormously time-consuming art forms are an extension of her dedication to tell the world about the book first named, "The Breath of God," and to recount its most important gifts to all peoples, from creation to Jesus Christ. Her scholarly research is immense and thought provoking, that stand as a testimony to the truth of the Holy Scriptures.
As you go through the pages of this book and examine Mona's meticulous work, you will be in awe of her God-given talent, vision, creativity, and incredible knowledge of the Scriptures. Her work is unique, original and quite rare. I see her work as highly collectible and extremely limited in supply. Because of her thorough research, tedious painting and attention to detail, she is only able to complete a very limited number of these beautiful art forms each year. Do enjoy this glimpse into the artistry and life of this fascinating woman, Mona Johnian - artist, teacher, researcher, speaker and Bible authority.  
David Wright, Master Photographer        
Ten years in painting, one year of intensive research, and a lifetime of study makes this conscise overview of the Bible, in art,  a "one of a kind" book from Genesis to Revelation. This book features 129 pages with 177 Biblical characters presented in fine print quality.